SYNOL VSG GREASE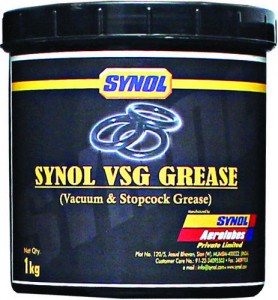 Vacuum & Stopcock Grease
Synol VSG Grease is silicon High Vaccum (upto 10-9 torr) grease. It is also suitable as chemical resistant stopcock grease and lubricant for synthetic rubber O-rings, seals and gaskets. It is also an excellent mold release agent for reactive polymers such as epoxy & polyurethane compounds and Engineering plastics based on Styrene(ABS, HIPS) Nylons and Polyesters,etc. It is a water repellent airtight sealant for air control valves and pneumatic systems. It is also a heat stable(upto 250 degree C) dielectric water repellent sealant suitable for electrical systems.
Temperature range: -40 degree C to 250 degree C.
Applications:
A sealant and lubricant for automatic control valves, flow meter bearings, pump packing, on floating telephone batteries, in valves of water softener, on Fire extinguishers etc. A lubricant for synthetic rubber O-rungs, seals and gaskets. A mould release agent for epoxy, polystyrene, polyvinyl-chloride, polyester resins and other plastics.
Benefits:
Suitable for very high vacuum. Chemical resistant grease.
High Temperature grease.
Non-dripping grease.
Mold release agent for thermoplastics.
Packing: 100-gm.Jar & 1-kg. Jar.
Our Prestigious Clients