SYNOL XA-100
Synol XA-100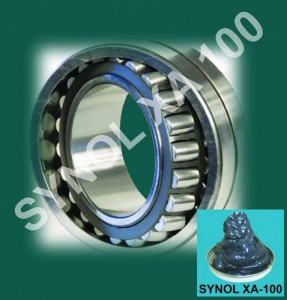 Synthetic Multipurpose Black Moly Grease
Most Versatile complex soap based grease blended with Molybdenum dislphide which develops a tenacious low friction film with an excellent load carrying capacity. It is also fortified with additives such as E.P., Rust & corrosion inhibitor and anti-oxidant to reduce wear, provide good water repellency and oxidation stability.
Temperature range : -40°C to 200°C
Applications:
Plain and anti-friction Ball and Roller Bearings and Bushings, Rack and Pinion, Gears, Linkages, Slides Universal joints, Kingpins, Guides, Chains, Centralized Lubrication Systems, Electric motors, Pumps, EOT cranes, Forklifts etc.
Benefits:
Extended re-lubrication interval.
Reduces wear & friction.
Does not melt away like MP Grease.
One single grease to replace many conventional greases.
Packing: 1-kg. Jar & 10-kg. Bucket
Our Prestigious Clients