Synthetic Cutting Fluid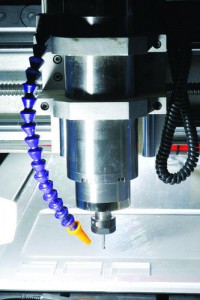 SYNOL CUT- 55 is a high-quality, clear, non-staining cutting oil developed for light – to medium-duty machining of ferrous and some non-ferrous metals, such as mild steel, ductile iron and aluminum. It is easily soluble in water in all proportions and can be used as a universal oil for all machine cutting operations. It is transparent for visibility of the workpiece during machining operations and is non-staining to both ferrous and non-ferrous metals. It is specially formulated with high-quality, low-sulfur base oils and fortified with E.P additives that provide good anti weld properties and reduced friction at the chip-tools interface, resulting in extended tool life and good surface finishes on the machined parts.
AREA OF APPLICATION:
Automatic screw machines.
Drilling.
High-speed, low feed rate, precision machining.
Light-to medium-duty machining of ductile iron.
Sawing.
Tapping and threading of mild steel.
Our Prestigious Clients