SYNOL PDN-22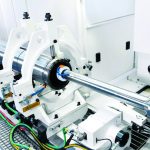 High Speed Red Grease
It is a synthetic fluid grease specially formulated with highly stable chemical additives for high speed operations. These special chemical additives reduce the fatigue and abrasive wear considerably under extreme dynamic load conditions where operating speeds and temperature are too high. It is also suitable for centralized lubrication system where fluid greases are required to reduce their internal friction and pumping losses.
Temperature range : -40°C to 150°C
Area of Application:
High Speed Centrifuges, Internal grinders, FHP motors, Instrument bearings, High speed bearings, Gear couplings & Manhot spindle of CNC machines.
Benefits:
DN Factor: 1,000,000.
Operates under very high speed / temperature.
Energy saving.
Reduces wear and tear at high speed.
Reduces down time.
Packing: 1-kg. Jar & 10-kg. Bucket
Our Prestigious Clients