SYNOL METAPLAT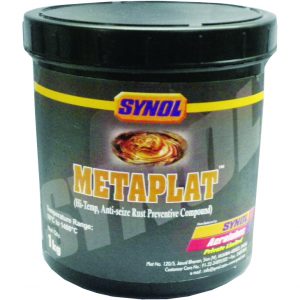 High Temp., Anti-seize, Anti Rust Copperbase Compound
It is an anti-seize rust preventive compound consisting of Homogeneously dispersed organometallic complex of copper and other solids to form a non-melting lubricating / compound. It is further fortified with highly effective oxidation and corrosion inhibitors to combat environmental severities.
Temperature range : 0°C to 1400°C
Area of Application:
Automotive-Exhaust manifold and cylinder head studs, gaskets, plugs, U bolts, brake cams, pins, king pins bushings, Petrochemical & Fertilizer plants pipe thread, flanges, joints, boiler covers Marine & offshore Shafts and nuts swivel bearings, steering mechanism, pipelines.
Benefits:
Protects against high Temperature and load.
Highly water repellant.
Excellent Anti-corrosive Compound.
Forms tenacious & adhesive film.
Holds tight under continuous vibration.
Packing: 1-kg. Jar & 10-kg. Bucket
Our Prestigious Clients