CVC FIC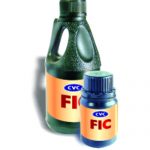 Fuel Injector Cleaner/Petrol Additive
CVC FIC (Fuel Injector Cleaner) Petrol Additive is formulated with powerful detergent dispersion and corrosion inhibitor additive components to combat the common injector and fuel system fouling problems. The powerful detergents maintain the cleanliness of injector nozzle and other fuel components from carbon and gummy deposits.The dispersing agent completely dissolves small amounts of water in fuel, allowing its passage through filters and preventing it from icing in the fuel lines.The Corrosion Inhibitors in CVC FIC protect injector tips and other fuel systems parts from excessive corrosion.Injector Cleaner is a fuel detergent additive with excellent water dispersion properties. It is designed to combat the common injector and fuel system problems.
Benefits:
Cleans fouled injected nozzles from carbon & gummy deposits.
Restricts moisture building up due to condensation.
Prevents fuel line icing.
Protects injector nozzles from corrosion.
Improves fuel efficiency by 4-5%
Applications:
CVC FIC is used in all fuel injected petrol engines, petrol to maintain the system in prime condition.
Packing: 250-ml Bottle
Our Prestigious Clients