SYNOL EP – 3 GREASE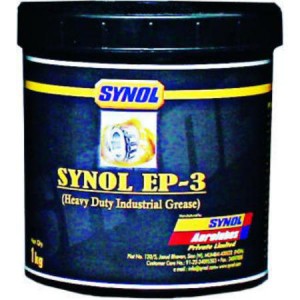 Heavy Duty Automotive/Industrial Grease
SYNOL EP-3 Grease is a multipurpose heavy duty grease containing a rust and oxidation inhibitor and EP additive. SYNOL EP-3 Grease provides good service life in a variety of bearing application for Ball, Roller, Plain & Antifriction bearing application. It has heavy load, high Vibration & good water resistance capability. It is also available in different consistencies i.e. light (No.1) & medium (No.2)
Application:
All types of Anti-friction bearings of Automobiles, open gears, Chains and sliding surface application, Electric Motor bearings ,Water pump bearings and Sealed for life bearings. It is designed for the grease lubrication of Rolling element and plain bearings such as for Steel, Paper, Mining, Construction & OEM industries.
Benefits:
• Reduces friction and wear.
• Shortens maintenance downtime cost.
• Chemically inert and water repellant.
Packing: 1-kg. Jar, 10-kg. Bucket and 180-kg. Drum
Our Prestigious Clients