SYNOL ECG-77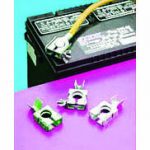 Electrical Conductive Off-white Grease
SYNOL ECG-77 is a specially developed synthetic electrical contact grease formulated to provide excellent lubricant properties to electrical contacts in presence of a wide range of materials such as metals, plastics, rubbers, polymers, etc. It is based on highly stable synthetic oils fully inhibited against copper corrosion, oxidation and other contact materials.
Temperature range : -40°C to 200°C
Area of Application:
FHP motors, Instrument bearings, Internal grinders, spindles, Universal joints, Hand tools. High speed rotor bearings, pulleys & rollers of Open-End Spinning machines. DN Value 100,000.
Benefits:
Highly conductive contact grease.
Protects contact surface from wear and corrosion.
Packing: 1-kg. Jar
Our Prestigious Clients