SYNOL ECG-424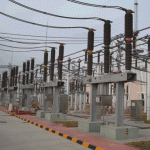 Black Electrical Contact Grease
SYNOL ECG- 424 is a highly conductive grease suitable for transmission of electricity especially at high voltages.  It also conducts heat away from its source and protects contacts from wear and corrosion. It contains high quality graphite & other solids to maintain long term conductivity with low wear & tear of switches.
Temperature range : -20°C to 1100°C
Area of Application:
Used for Electrical contacts & other linkages of circuit breakers (33KV, 6.6 KV etc.) Switches, starters, contactors, Battery terminals etc. Circuit Panels, Heat sinks and for all other applications where conduction of electricity and /or heat is required.
Benefits:
It is a thermally stable, oxidation-resistant grease.
It protects contact & bearing surfaces from rust & corrosion.
It can withstand very severe arcing that occur in high voltage lines.
Packing: 1-kg. Jar, 15-kg. Bucket
Our Prestigious Clients