CVC DECARB (S)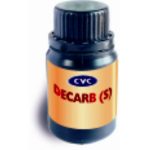 Decarbonizing Solvent for Petrol Engines
Decarbonizing Solvent is a powerful fuel detergent additive with excellent water dispersion properties to clean the internals of engines and combustion chambers. It is also designed to combat the common injector and fuel system contamination problems, which includes fouled Injector nozzles, moisture building up due to condensation, fuel line icing & corrosion of injector nozzles.
Benefits:
Restores lost power.
Improves acceleration.
Smooths out rough idling.
Improves fuel economy.
Cleans intake port.
Fights rust in the fuel system.
Reduces emission.
Our Prestigious Clients