SILVER SPRAY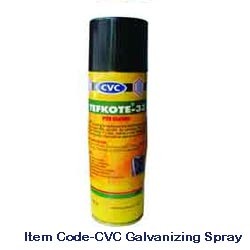 Touch-up Anti-corrosive Spray Coating Silver
CVC GALVANIZING SPRAY is a highly effective cold galvanizing spray. It provides protection for all polished metal surfaces, and on the other hand, forms a highly adhesive, fast drying permanent primer for all types of paints. It is also suited as a primer for bonded lubricants. The outstanding corrosion protection characteristics show up especially in Electro-chemical (cathodic) corrosion protection, which prevents damages, e.g., scratched surfaces, from rusting after treatment. In the open air weather test CVC GALVANIZING SPRAY shows no signs of rust even after several months.
Area of Application:Used in industries like Agriculture, Chemical, Structural, Engineering, Steel plants etc.
Benefits:
Provides long-term protection against corrosion and rust.
Is salt water-resistant and withstands temperatures up to 250°C.
Forms protective coating without flaking.
Packing:
550-ml. Aerosol Tin
5-Kg.Tin
Our Prestigious Clients