SILICONE GREASE(Synol SG – 12)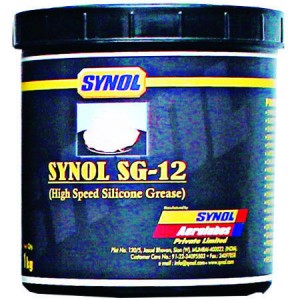 Synol SG – 12
It is a Silicone grease compounded from fortified silicone oil thickened with a special lithium soap and E.P. additives to meet the most critical industrial applications. It is ideally suitable for very high speed & high temperature applications. It possesses an excellent resistance to oxidation in corrosive atmosphere and breakdown due to shear. It has outstanding water repellence characteristic for marine and humid atmosphere. It is far more inert and heat stable making it a life long lubricant. It is ideal for low
torque bearings. Temperature range : –40 degree C to 220 degree C.
Applications:
All types of anti-friction ball & roller bearings, sleeve bearings & needle bearings operating under high speeds and high temperature. For steam joints and submersible pump bearings, water turbines, conveyor systems, electric motors of class "H" insulations. Washing machines, domestic
appliances etc.
Benefits:
Operates under extremes of speed & temperature.
Life long lubricant.
Multipurpose applications.
Water repellent.
Reduces maintenance down time.
Chemically inert.
Low starting torques at low temperature.
Packing: 50-gm. Jar, 1-kg. Jar & 25-kg. Drum.
Our Prestigious Clients