SEMI-SYNTHETIC GEAR OIL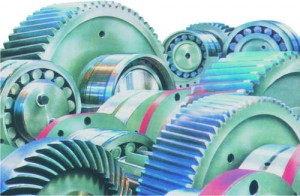 Synol Gearlube – 100
It is a specially formulated gear oil with anti-foaming agents and friction modifiers to facilitate high performance, longer life and saving in energy. It is also available in different viscosity grades such as ISO VG 32 / 40 / 68 / 100 / 150 / 220 / 460.
Applications:
Enclosed Gear Drives, Centralized Oil Lubrication systems, Transmission Chains, Also applicable for takedown base gear drive of Terrot machines & other circular Knitting machines etc.
Benefits:
Extends drain intervals.
Reduces wear and tear.
Wide operating temperature range.
Reduces power consumption.
Packing: 1-Litre Bottle & 25-Litre Drum.
Our Prestigious Clients