CVC WINDOW DRESSER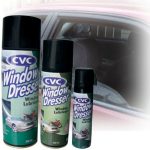 Power Window Lubricant
CVC WINDOW DRESSER is an excellent Polymer based lubricant for Rubber, Plastic, Metal parts and assemblies used in window frames of Automobiles, Sliding windows, Rubber Beadings, Rubber Rollers, Conveyors etc.
Application:
To spray on rubber channels & rubber beadings of car window frame and carryout smooth up and down movement of glasses of automobile windows till the movement becomes free from sticking.
Benefits:
Protects rubber parts from weathering effects.
Non-staining, long-lasting lubricant.
Frees sticky power window mechanisms and rubber beadings.
Packing:
100-ml Aerosol Tin
250-ml Aerosol Tin
550-ml Aerosol Tin
Direction For Use:
Roll down the window glass. Spray evenly inside the rubber channel of the glass. Roll the glass up and down 2-3 times to get the best results.Repeat the application if necessary. Ensure an even spray on all rubber parts.
Our Prestigious Clients