High Temperature Anti Seize Compound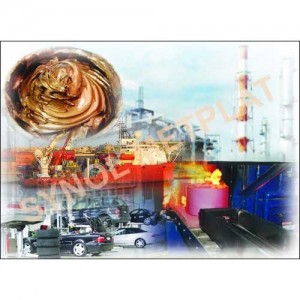 META PLAT is an anti seize rust preventive compound consisting of Homogeneously dispersed organometallic complex of lead copper & other solids to form a non-melting lubricating / compound. It is further fortified with highly effective oxidation & corrosion inhibitors to combat environmental severity. It forms a tough plating over bearing surface by filling the surface irregularities with matrix. This matrix does not melt or harden even under extremes of environmental conditions. It also holds well to threaded connections subjected to continuous vibration.
Area of Application:

Industrial machinery, heavy duty trucks, construction equipment, power and electrical equipment, farm equipment, oil rigs pipe-lines, steel mills, cement plants and heavy duty marine and diesel equipment.
Our Prestigious Clients