CVC ENGINE COAT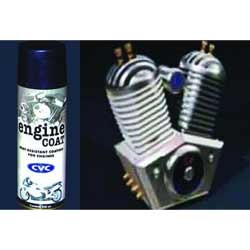 Heat Resistant Coating for Engines
CVC Engine Coat resists high temperature. It gives superior high-gloss transparent finish to the engines of 2-Wheelers & Cars.
Area of Applications: For the engines of 2-Wheelers & Cars.
Instruction for using Engine Coat:
Before spraying CVC ENGINE COAT, ensure that the engine and surrounding parts are clean, dry and free from oil, dust etc.
Spray CVC ENGINE COAT uniformly in thin layers on engine parts allowing it to touch-dry for about 10-15 minutes before handling. The coating will be cured completely within 1 – 2 hours for regular service.
Do not apply thick layers of CVC ENGINE COAT as it will not cure properly and will leave sticky rubbery feel after curing.
Caution:
Sudden heating of engine parts coated with CVC ENGINE COAT will affect proper curing and may release unpleasant smell.
Benefits:
Protects engine surface from contamination, weathering and rubbing effects.
PACKING: 100-ml, 250-ml & 550-ml. Aerosol Tin
Our Prestigious Clients