CVC TYRE SHINE SPRAY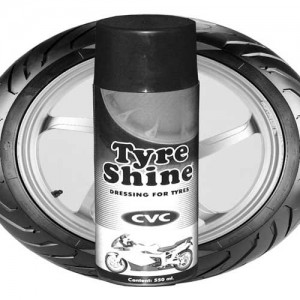 Dressing for Tyres
CVC Tyre Shine Spray cleans and protects tyre side walls leaving a long lasting new-look sheen. It protects the rubber parts from weathering effects and maintains suppleness (softness).
* CVC TYRE SHINE to be sprayed on the side walls of tyres only.

Features:
Gives a sheen to tyres (New look).
Protects tyres from weathering.
Application:
Tyres of all 2-Wheeler & 4-Wheelers
Packing: 100-ml, 250-ml & 550-ml Aerosol Tin
Our Prestigious Clients