CVC DFA-561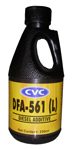 Diesel Additive
Diesel Additive is a concentrated high performance and multi functional diesel fuel additive. It enhances fuel efficiency, better ignition quality & better extreme weather operation with much cleaner fuel system for diesel fuel package.
Features:
Improves fuel efficiency by 5 % relative to untreated fuel.
Cleans injector system and ring belt area.
Improves lubricity for prolonged pump & injector life.
Improves low temperature operation from wax modification.
Provides maximum fuel filter life.
Improves ignition quality of diesel fuel using combustion improver.
Better fuel stability in storage.
Packing: 50-ml Bottle, 250-ml Aerosol Tin
Our Prestigious Clients