Developer, Penetrant Cleaner Sprays In Kit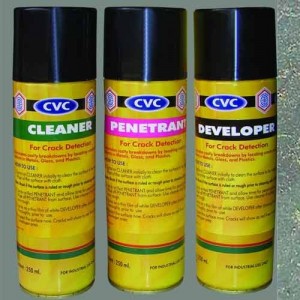 This Versatile dye penetrate system is a simple non-destructive method of testing for defects open to the surface but not visible. Practically any non-porous surface can be inspected for defects with this system. It is a 3 component system viz. PENETRANT / DEVELOPER / CLEANER, conveniently packed in handy aerosol spray cans.

Benefits:
Simple non-destructive dye-penetrate inspection system for checking of cracks and flaws on all surfaces like cast and welded surfaces.

Area of application:
It is effective on surfaces of all ferrous and non ferrous metals such as aluminum, copper, magnesium, alloys such as brass, stainless steel,glass carbides, satellites plastics and ceramics. It is ideal for spot testing of large parts, assemblies, welds, casting etc. on site.

Packing:
Kit of 3 250-ml. Aerosol Tins with cloth & wire brush
Our Prestigious Clients