CVC CORROSION INHIBITING COMPOUND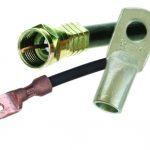 Yellowish compound For Lugs and Connectors
CVC CORROSION INHIBITING COMPOUND is a contact aid used for bolted connectors, lugs, sockets & cable clamping devices. It has an excellent resistance to corrosion, especially under humid, salty and corrosive atmosphere when used with aluminium, copper, tin, zinc and steel components. It seals against moisture and contaminants and it does not affect the electrical properties of cable joints.
Temperature range : -40°C to 180°C
Area of Application:
For cable sockets, lugs and dowell connectors etc. to be used during jointing and fixing of cables etc.
Benefits:
It can withstand high temperatures and it is easily applied through collapsible tubes directly on to the area to be coated.
Packing: 50-gm Jar & 1-kg. Jar
Our Prestigious Clients