CVC BATTERY COAT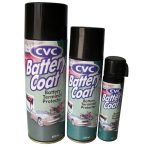 Battery Terminal Protector
CVC Battery Coat is an excellent based on silicone, which seals electrical parts and ignition systems from moisture. applications: battery terminals, delco caps. benefits: protects from sulphonation. Approved and recommended by exide improves contact efficiency, increases battery life.
Benefits:
Protects from sulphonation.
Improves contact efficiency.
Increases Battery life.
Application:
Battery terminals, Delco caps in vehicles.
UPS batteries, industrial batteries.
Packing:
100 ml Aerosol Tin
250 ml Aerosol Tin
550 ml Aerosol Tin
Our Prestigious Clients