CVC AQUAKLEEN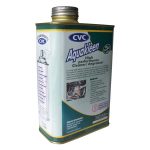 High Performance Cleaner
CVC AQUAKLEEN is a high performance concentrate for water dilution. It is a revolutionary formulation of surfactants, detergents & additives uniquely blended to aggressively and specifically attack heavy oily and greasy contaminants. With its unique formula it penetrates, wets & lifts off oily & greasy deposits from any surfaces. The surface can be wiped clean or rinsed with water after allowing it for a few minutes to work. It is an ideal & safe replacement of kerosene and petrol as recommended by European and US standards, used as cleaners in various industries.
It is used at concentration of 5 to 50 % with water depending on what is intended to be cleaned. It is important that the solution must be continuously agitated while the water is being added. Normally 5 to 10 minutes are allowed after dipping the components in the AQUAKLEEN solution after which components can be wiped free of contaminants or rinsed with water.
Benefits:
Excellent, fast acting cleaner concentrate.
Water dilute able as per the requirements.
Penetrates & lifts off oil, grease, dirt layers.
Does not affect plastic, fiber, ceramic, metal painted surfaces.
Non-toxic, Eco-friendly and biodegradable.
Safer than using hazardous kerosene and petrol for cleaning.
Application:
De-greasing of engine, Gear box & various components.
Bonnet covers, Chassis, Tyre.
Total cleaning of outer body of the vehicle.
Strongly recommended for cleaning garage & workshop floors.
Packing: 1 litre Tin, 5 litre Tin
Our Prestigious Clients