CVC AF-100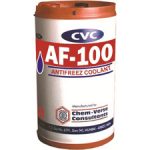 Antifreeze Coolant
CVC AF-100 maintains optimum radiator temperature even under the most extreme conditions.
Under cold temperatures, it prevents freezing of water and in extremely hot environment, it
prevents evaporation loss of water thereby maximizing the cooling efficiency. It is non-corrosive
and keeps the water channels clean and free from deposits maintaining effective heat transfer. It is
ideal for all seasons and for all vehicles.
It may be used neat or diluted with demineralised water for industrial cooling and heat transfer
applications such as in radiators, boilers, chilling plants, cooling towers etc. It is an excellent
Coolant for Automobiles, Trucks & Diesel Generators.
Packing: 1-Litre bottle, 27-Litre drum & 210-litre drum.
Our Prestigious Clients