Contact Cleaner Spray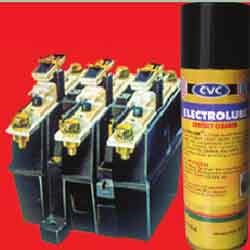 ELECTROLUBE is a high quality electrical contact cleaner-cum-lubricant, which cleans carbon deposits, greases and other contaminants and protects electrical contacts from humidity and corrosion. It maintains electrical conductivity, prevents electrolytic action and eliminates contact burns providing a non-drying water repellant film.
It is a blend of selective solvents & chemical additives. It is blended with synthetic lubricants, fortified with rust and corrosion inhibitors with antiwear additives. This combination of chemicals and additives provides a powerful cleaning action of carbon and other deposits on electrical contacts without harming the electrical hardware in the vicinity of contacts. In addition to that it protects contacts from rust & corrosion and wear & tear.
It cleans contacts without dismantling them when sprayed from Aerosol tin.
Area of Application:
Contractors, Relays, Switches, Test instruments, Computers, Telephone System, Photographic equipment's, Circuit Breakers, Contractors, Radars Control Panels, Domestic Appliances, etc.
Our Prestigious Clients