Conformal Coating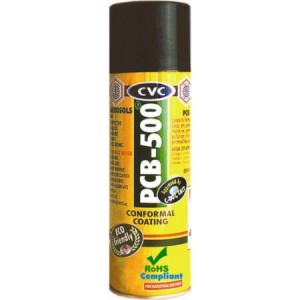 It is a Dielectric, Anti-tracking, Protective Coating specifically formulated to provide an instantaneous, clear, dry, protective coating for PCBs to protect from moisture, corrosion, tracking, dirt & dust, fungus & pollution. It is a solder-through type of coating based on modified acrylate, for easy repairs. It is scratch-proof after it dries and provides easy handling & stacking during transportation. It assures long life to components & PCBs against adverse conditions.

It conforms to MIL-I-46058C specification. It is approved by Centre for Development of Telematics (C-DOT) and (CACT). It is also RoHS compliant and environment friendly.
Visible under U/V light for easy identification!

It is approved by DGCA for aircraft application.
Area Of Applications:
All types of printed circuit boards and assemblies, Electronic components and other parts such as battery terminals, bus bars, transformers, etc.
Our Prestigious Clients