CVC SHOTGUN+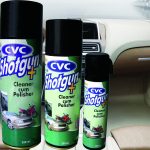 Cleaner Cum Polisher
SHOTGUN+ is specially formulated Cleaner cum Polish with anti-static properties for long term protection against moisture. It is suitable for all types of Plastics, Leathers, Ceramics, Chromium and Steel surfaces. It is also suitable for TV and Video cabinets, Computer controls, car upholstery & domestic appliances. It cleans away dirt, stains, greasy deposits, etc. from the surface & protects them from moisture & corrosion.
Applications:
Automobiles dash boards, Bumpers, Leather upholstry, Computers, Monitors, Key boards, T.V., Office equipments, Telephones, Mobile phones, C.D. Players, Metal & plastic parts, Chrome parts, Car audios, White goods, Refrigerator, Washing Machine, Domestic Mixers, Motor Cycles, Door handles, etc. All Household, Office, Garage, Hotel, Workshop applications.
Benefits:
Leaves shiny & glossy film on any surfaces.
Cleans smudges & stains.
Protects from moisture & tarnish.
Prevents of dust accumulation.
Packing:
100-ml Aerosol Tin
250-ml Aerosol Tin
550-ml Aerosol Tin
Direction for Use:
Hold can in a position where the nozzle is pointed towards application area. Spray evenly from a distance of 8-10 cms. Wait for a while. Wipe lightly with a clean cloth/tissue paper for a glossy film. Repeat spray for more shine.
Our Prestigious Clients