Aerosol Spray for Width Adjusting Spindle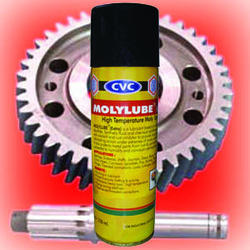 Molylube is clean, dry lubricant, based on molybdenum disulfide, chemically inert, forms a thin tenacious antifriction film capable of withstanding extreme pressures (100,000 psi) and temperatures (-180°C to +400°C). Protects against seizure, fretting, scoring etc. and will free seized threaded connections with deep penetrating and lubricating action.
Applications:
Bearings, slides, ways, shafts, journals, gears, rams, fasteners, chain wheels, conveyor, sprockets, pins, bushes, plungers, springs, hinges, threaded connections, locks, linkages, splines, sleeves, etc.
Our Prestigious Clients