SYNOL 15W – 40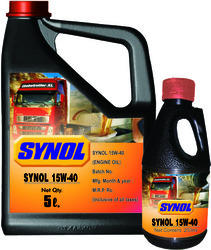 Premium Engine oil
SYNOL 15W-40 is premium commercial multipurpose diesel engine oil. The oil is designed for the most severe performance requirements of new generation diesel engines for on and off highway operations. It assures outstanding protection against high temperature engine deposits, oil degradation, oil thickening and corrosion resistance. The oil is having excellent shear stability to maintain viscosity under severe, high temperature operations. It exhibits outstanding control on soot induced thickening and soot induced wear.

Benefits :
High oxidation stability reduces sludge build up & viscosity increase to facilitate long drain intervals.
Improved detergency reduces deposits and enhances engine cleanliness.
Good dispersancy ensures soot dispersion to control oil thickening and wear.
Effective anti wear properties protects critical engine components to extend engine life and reduce maintenance costs.
Better high temperature-high shear stability protects against bore polishing.

Applications :
Turbocharged and naturally aspirated diesel engines of all major global engine manufacturers meeting EURO III emission norms.
On-highway light and heavy duty trucking including high speed-high load service and short haul pick up/delivery van.
Heavy duty diesel engines used in mining, construction, agriculture and other off-highway applications.
It is especially compounded for use with diesel fuel ranging in sulphur content upto 0.5% by wt.

PERFORMANCE STANDARDS
API CH-4
MB 228.3
MACK EO-M PLUS
MAN 3275
VOLVO VDS-2
CUMMINS CES 20076
ACEA E3-96
MULTIPURPOSE ENGINE OIL
Packing : 250-ml Bottle, 5-Litre Carboy, 27-Litre Drum & 210-Litre Drum
Our Prestigious Clients